New Year 2004 Special Offer Order Form US$ or UK£
---
SEASONS GREETINGS
la navidad (f) = Christmas
imagine … at Christmas a little girl (f) looking at a Santa Claus suit says,
" Is that what they wear in the NAVY DAD?"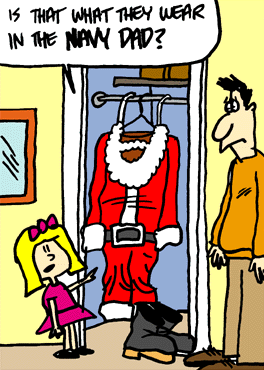 Remember: Spanish words ending in -dad are feminine gender.
The character in the pic is a girl, so we know the word is feminine. Additionally, the text is red for female and the voices on the programme* are female also. Three gender triggers in one - making it easier for you to learn and remember. (*There is no sound file with the newzine)
Also:
"Feliz Navidad" = "Merry Christmas"
el día de Navidad = Christmas Day.
la Nochebuena = Christmas Eve.
---
SIMILARITES BETWEEN ENGLISH AND A FOREIGN WORD – COGNATES
You can get a head start with your foreign language vocab learning by finding out about the common ground between the foreign word and its English equivalent. These words are called cognates – they share a common root, often from the Latin – and so often look and sound similar.
e.g.
actor = el actor (Spanish), l'acteur (French)
error = el error (Spanish), l'erreur (French)
humor = el humor (Spanish), le humor (French), der Humor (German)
There are however, false cognates / false friends, and even semi-cognates – words that don't translate to mean exactly the same, or sort of do, even though they appear similiar.
But don't despair about these little trip-ups. Most often you'll find if you do misuse a word, a little error by a little actor can lead to a little humor …

In the 200 Words a Day! courses, the foreign words which are similar to the English are highlighted in the following ways:
- in the picture is a flag - Spanish, French or German, and/or
- the colors of the flag are incorporated.

Attention is also focused on the False Friends (FF).
A note is included on the word page, giving the real meaning of the word that looks like the English, as follows:
largo (adj) means long, generous, tall in Spanish, but looks like large in English.
So, in the notes you will see FF: and the correct foreign word given.
e.g. FF: large = grande.
Remember also: You can build your own lessons!
One of the most innovative features of the 200 Words a Day! programme is the ability to build your own lessons. Make up your own lesson of up to 30 words, chosen from the more than 1000 words in each course.
Customize your lesson, choose the words that you want to learn, first. There is scope for a maximum of 25 self-built lessons. You can also remove or amend words when you no longer find them relevant or useful.
Just click on a letter of the alphabet, scroll through the list of words and click on the ones you like. It's that simple. When you're finished, complete your lesson and away you go.
---
Your next newzine will be emailed in early 2004.
Thank you for your continued support and we look forward to seeing you in the New Year. We'd like to wish you and your families all the very best for this festive season and for 2004.
Remember, we welcome any information, ideas, comments or queries you may have regarding this newzine.
Thank you and regards
Kevin Crocombe
Kevin@200words-a-day.com.

Visit our website:
Language Learning 200 Words a Day!

Trade enquiries are welcome.
200 Words a Day!
32 Alverton, Great Linford, Milton Keynes, Bucks, MK14 5EF, United Kingdom.
Tel: (+44) 1908 676 873
---