Can login using their name & password at any computer on the network and continue their progress on the course
---
Here's why kids love it.
To teach the Spanish word for date it is
la fecha
So we teach them with a cartoon that has a word association.
Imagine a girl saying checking the date and getting her sister to FETCH A calendar.
Not only that the gender is taught at the same time without further effort.
Notice that the characters are female.
So it the word feminine, thereby overcoming an age-old problem with teaching Spanish, French and German genders!
For the German neuter we overcome the student's difficulty in remembering the gender by adding to the picture a smoking animal.
The smoking animal prompts the student to realise that the word is neuter.
Here's an example, that any teacher of German will know:
The German for flour is a neuter word...
das Mehl
(sounds like MAIL)
So we give the student the picture of a mule smoking a pipe, preparing his MEAL, and pouring flour over a MELON with his MAIL beside him...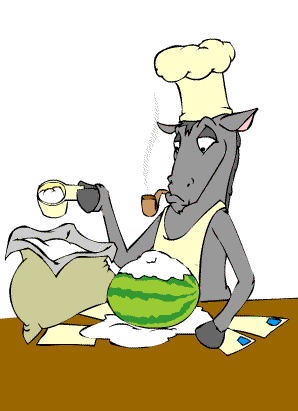 ---
Great photographic visuals following the more traditional flashcard format are now included. An alternative way to learn your vocab or to add variety to your testing.Can run as an independent course or used in conjunction with the vocab-builder course - drill-down to a sentence showing the word in context. See it, hear it, spell it, practice it, test it - great for learning extension.
For More Information
Please fill in the form below to register your interest in a Site Licence, and we will contact you to discuss the most suitable options available.
We are more than happy to offer discounts for purchase of multiple courses.
Discounts are also available should you wish to sell our CDs to your students for home use (ie as a fund raiser).
We would welcome the opportunity of presenting our software to your school or learning institution, and answering any further queries you may have.
Like the Software as a Teaching Tool? Bring your Subject to life!
Our software is compatible with any range of subject matter. If you would like to discuss an idea for a course, please Contact Us.
We look forward to hearing from you very soon.
Contact Details:
Kevin Crocombe
Managing Director
200 Words a Day!
Exceltra - Transcity Properties Ltd
32 Alverton, Great Linford
Milton Keynes, Buckinghamshire
MK14 5EF
United Kingdom
Tel: (01908) 676 873
---
Copyright 2009 Transcity Properties Ltd - Site Licence
Milton Keynes, Bucks, United Kingdom.
Ph. + 44 1908 676 873