Learn German 200 Words a Day!
& quickly build a solid base
for your learning.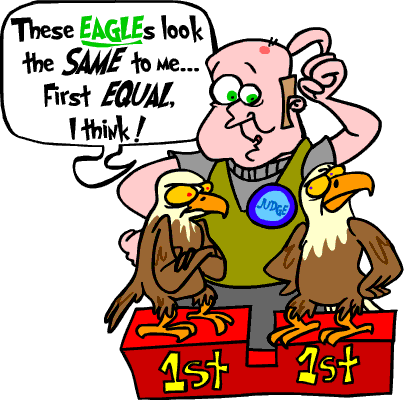 egal = same, equal
Want to Learn German - Fast German language learning?
5 Time-Saving Tips you must know & 7 ways to avoid the most common blunders
Answer this:
Are you learning 200 words a day with your German course?
No? Well quickly boost your vocab and your learning with our innovative software using proven memory techniques.
Of course you can do it, and more. Try this one ...


---

The word in German for the verb:


"to hiss (spit)" is fauchen(sounds alot like FOWKEN)


© exceltra
So, imagine a man hisses and spits out a FALCON!

---
Now that is learning German made easy, isn't it?
Imagine how much fun you can have while language learning.
But not only is modern accelerated learning speed up the learning process it also improves your memory retention and word recall.
Memory retention can be 5 to 10 times more effective than traditional methods.
Perfect for the serious student and
perfect for the the traveller on that short business trip or holiday where you need some fast, functional, easy to grasp language skills.
If you've tried to learn German, or have learnt some in the past…
Have you ever been in the situation where:
Have you learnt German in the past, then struggled when you needed a word, phrase or set of words?
Have you maybe got to a reasonable level then often struggled for a gender when you need to think of the ending of the adjective you are about to use?
Or do you just think that you are 'no good at languages'.
Have you tried German course after course, got a stack of 'Learn German CD-Roms, German lesson books, German textbooks, and given up after lesson two or three?
Or have you tried and then fizzled out through the boredom of traditional teaching techniques?
Or perhaps you simply have not had the time.
Well, we can show you ways to beat this….
Because if you are not learning German at 200 Words a Day or more, your techniques are decade behind!
Dear Language Learner,
What the Memory Masters teach about memorising German words
Hi Kevin!!! First of all, I would like to tell you that I love your product and I am very satisfied with it. It is amazing!!! I am learning a lot and at the same time I am having a lot of fun with it.
Thanks a lot for helping me learn German rapidly and efficiently.
Juan, France
---
"My wife, 2 children & myself truly found it a great help... It was amazing how much & how quickly our children actually remembered the words!

It never occurred to them that they were learning...

...remarkably funny & not a 'chore to-do'...

...children really enjoyed the tests & often did these together & requested to 'play' it instead of their usual computer games. What a plus!"

Paul Arshad, Lourquen
---
"I definitely didn't think I would be achieving 200 words a day. It seems far too many to remember , especially as a beginner to the language, but I am easily scoring 257 words a day."

G. Ward, Auckland, New Zealand.
---
I have every intention to master this language and my enthusiasm is the result of the excellent presentation and format in which you have packaged the learning.

It is obvious a great deal of thought, effort and understanding has been applied.

Chris P, Lancashire, UK.
---
I love the 200 Words a Day! method because I remember the words, the recall is incredible! I also like the idea that you learn how to spell the words as well, no other program gives me that.


Doug R., Salt Lake City, Utah.
The great Memory Masters of the world, people who can memorise dozens of packs of playing-cards – in sequence, lists of hundreds of items and such like, have revealed their secrets.
They say that to firmly plant anything into your long-term memory so that you will remember it, you just need to visualise it in a silly, crazy, goofy scene.
You just do this in your mind's eye. You just shoot yourself a wacky, silly, off-the-wall mental movie. A movie in your head.
The more stupid, bizarre and crazy the mental movie, the more colour, movement, silliness and spark, the more goofy and off the wall, the easier it is to recall.
So you can get all your learning material and go through it yourself dreaming up crazy, fun visualizations. And dozens of hours.
So why not learn German phrases and words and remember them the easy 200 Words a Day! way...
We make your job to learn German even easier and faster
We do all this for you and make it so simple. You just plonk yourself in front of the PC and start tapping away.
Let me explain.
To shoot a movie in your mind actually takes time and effort. Yes indeed, effort is needed to relax and concentrate!
Ideally you need up to a good 60 secconds to thoroughly visualise a mental movie. Multiply that by 1,000 words that you need to learn and you can see that it mounts up to be quite a long time.
So would it not be great if someone just gave you all the mental movies and you did not have to spend time shooting them yourself.
Well we've done just that with our Learn German 200 Words a Day! CD-Rom courses.


---
• We slash the time factor by giving you the visualization in the form of a picture. A fun cartoon, like the ones on these pages.
• You can see how you can rapidly learn German words by the hundred in very little time.
• They are easy, they are fun and …
• your brain never forgets a picture.

---

Here, try another word. I like this one.

The German word for:
wall is
die Mauer
... which sounds like MOWER!
So, imagine Demi Moore (f) driving her lawn MOWER in to the wall.
© exceltra Learn German

But the picture tells you much, much more than the word. Is the word masculine or feminine?
Simple, the main character of this noun is feminine, so the word is feminine.
Learn the genders of all nouns at the same time as learning the word. To know the gender is so important when it comes to perfecting your German.
And, in addition to getting you to visualise funny mental movies …
We help You to Avoid the 5 Most Common Time Wasting Errors that German Learners make
Language Learning Time Saver #1: You get a picture for the Visualisation
We've done all the work for you, our artists having drawn thousands of pictures, one for each word.
Your brain will never forget a picture.
If you are stuck, just relax and think of the picture.
---
Unsolicited Testimonial
I did not think I was a "visual learner" at all but it is amazing how much those little cartoons help. We keep saying "think of the picture" ! Really fun way to spend some time together (she's sixteen) and learn something. What a concept!

Lynn, United States
---
Learning German Time Saver #2: Avoid wasting Your time when doing revision
By revising at the Optimum Revision Times you will use your Revision times most effectively.
Our CD-Roms prompt you to revise at the 5 Ideal Revision Time Intervals .
Do not over-revise - which is inefficient use of your precious time, but also do not under-revise…!
Revise efficiently!
Learn German Time Saver #3: Find your German Learning Rate
If you can measure something you can judge your progress. The 200 Words a Day courses give you instant feedback with your learning rate calculated in actual words learned per day.
Learn to Speak German Time Saver #4: Laser Targetted Lessons save Time
Each lesson is just 5 to 12 minutes long, following which you can test youself and evaluate your progress.
Learn German Time Saver #5: Find your Weak Spots and then Batter them into Submission
Why spend too much time on the words you have mastered. Our courses will automatically identify your weakest words and phrases, rank them and have available to you a lesson to with your 30 Worst Words, as calculated over all the tests you have done.
This way Your Time is most efficiently used, without waste .
---
There is more to come yet, but before continuing, take out a subscription to our Language Learning e-Zine called '200 Words a Day!' while it remains free.
It's emailed twice a month & you'll get access to the back issues as well. (Please note the ezine does not send out 200 words each day - it's named 200 Words a Day to reflect the courses).
Not only can you easily Learn German ... but you can Avoid the 7 Most Common Language Learning Bloopers
You'll be given the tools to steer yourself around seven of the most common mistakes that language learners make when learning a new language.
Evade the "Learn German Mistake" #1:
Learning German Vocabulary by Repetition and Rote.
This is one of the biggest blunders you can make when it comes to vocab learning.
Way back in the 1800's to the 1990's this has been the method used by language learners, and is still used by many thousands of schools, trainers and language teaching establishments.
Learning by rote.... (unless you have a photographic memory, of course!) is truly a big time-waster.
Steer clear of the "Learning to Speak German Blunder" #2:
Get the tools so You Never Forget a Gender
You never need forget another gender as you learn German! This is probably the most common mistake for the German learner. You can now get the tools so there is something in your Mental Dictionary to remind you of the gender.
Any learner of European language knows that several have words that are either feminine or masculine.
Learning German language has a further complication - a third gender, the neuter gender .
The answer to this is in the picture that you get for each. . . and we call them Gender Triggers©.
---
You will be given the tools to remember the genders of every single noun you learn!
The tools are so simple and easy and we give you not one, not two, not three but FOUR unique Gender Triggers for each and every noun.
... and we give you a unique tool to remember the neuter gender for each and every picture. It is so simple and easy, but an unforgettable language learning tool.
In the case of the German neuter gender trigger we include in the picture a smoking animal to remind you:
Try this one: The German word for:
age = das Alter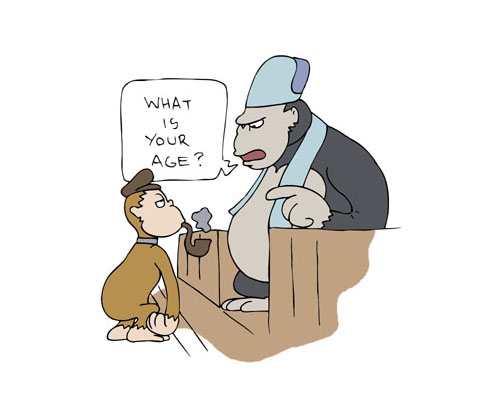 © Exceltra Learn German
Imagine a smoking ape (n) is asked its
age at the ALTAR.
---
The smoking animal reminds you of the neuter gender, and you just think of the picture to remember it.
Avoid the "Learn German Blunder" #3:
Learning without Humor!
If you're not having a laugh while learning German, it's going to be a chore. So relax, lighten up and have fun - there's a picture or cartoon for every single German word in the course and more than enough laughs.
Steer around the Learn German Error #4:
Not Making Mistakes!
Making mistakes is an important part of language learning.
But our tools will help you to minimise them without any extra effort.
It is all taught and explained with the one picture for each word!
Nevertheless if you are not making errors you are not trying hard enough. You are aiming at perfection ... and perfection can only come through making lots of mistakes! (or you are a genius, in which case you will find the course even easier).
Our message is to keep to a minimum the errors that you make which you can with the tools incorporated in our 200 Words a Day! system.
Avoid the Learning German Mistake #5:
Using the Wrong Learning Style for You
"•" Make Sure your Software Suits Your Learning Style.
You'll learn German more rapidly and you'll remember German words over five to 20 times more effectively than you would using traditional learning and teaching methods when you combine the correct learning style suitable for You with our methods.
The 200 Words a Day! Learn German system includes tools for all learning styles for your more efficient learning. These are:
kinaesthetic
visual
auditory
Avoid the "Learn German Blunder" #6:
Not listening to Perfect Pronunciation of Native Speakers
Ensure the German course you take has the words enunciated by Native German Speakers. This way you get the proper pronunciation as you learn German. Be careful it is not an English speaker who, as an adult, has learnt the language, because they will often not have a pitch-perfect accent. A native speaker is the one to listen to.
Avoid the "Learning German Blooper" #7:
Do not say, "I cannot do it..."
One of the major obstacles many language learners have to overcome is their thought that they are not good at languages. You have learnt English so you can learn another language. If you suffer from this syndrome, you should say to yourself ten times before each learning session "I can learn German!"
Here are some more of the many Features of the 'Learn German 200 Words a Day! Courses
"•" Over 40 German lessons on the CD-Rom, each being only 5 - 12 minutes duration. Then test yourself and see how fast you're learning German words and grammar.
"•" Watch your learning rate ! (... it is automatically calculated in words per day. If you are not pleasantly surprised how quickly you can superlearn German, you can get your money back!
(We call it excelearning German...)
---
My wife, two children and myself have truly found it a great help, and it has worked for us much more so than the many other products we have tried.
Most enjoyable were the cartoon system and word associations. Everything was quite clear, unlike several other products we had tried, but had failed for us.
Paul Arshad, Lourquen.

...continued below...
---
Learn German words and phrases fast? Ideal for the traveller - whether for business or pleasure
The 200 Words a Day system steps ahead of the rest for more rapid and more effective German learning, giving you all the most important German words and phrases.
Indeed, on our rapid mode you can even have fifty to a 100 German words an hour being taught to you, which is ideal for previewing, revising and summarising as you learn German with these innovative CD-Roms.
---
It was amazing to see how much and how quickly our children actually remembered the words taught! It never occurred to them that they were learning. And, of course we know learning is easier for young brains, however both my wife and myself found the system remarkably funny and hence, not a chore to-do.
The children really enjoyed the tests at the end of the sections. They often did these together and requested to 'play' it instead of their usual computer games. What a plus!
Sincerely, Paul Arshad, Lourquen.
---
Language experts say that:
What else is great about these learn Greman language courses that make them ideal for anyone wanting to learn German?
They are modern and new,
they are innovative,
. . . and they have gathered together many of the most up-to-date memory enhancing and memory retention techniques and tricks yet devised.
"•" over 1,000 German words
for you to learn in every German course.
"•" fun. Just relax and open up your sense of humor!
"•" fully interactive
with lots of very useful functions to choose from for accelerated German language learning enabling you to learn German and German words fast!
"•" user-friendly
and suitable for young and for old, all ages.
Every German word in each lesson gets a multi-modal make-over, with features including:
"•" six users
each family-member learn German at their own pace. Each individual's progress is recorded in their very own private database. You can even have family competitions with one another, to see who learns German words fastest!
"•" comprehensive self-testing and an optimum revision program
Optimal learning involves a smart revision schedule. The CD-Rom includes these and prompts you to revise and re-test yourself a day after you complete any lesson, then again at the scientifically researched Optimum Revision Times.
"•" ongoing scoring system
the inbuilt scoring system keeps you constantly updated on your progress with learning German.
"•" Help function a click away
just right click your mouse on the screen at any time you need assistance. It is easy and convenient.
"•" Over 40 German lessons!
Up to 30 words in each German lesson covering topics such as Travel, Food, Counting, German Greetings, the Months in German, weeks in German, days in German, Family words, vocab about Town, German Verbs, Most Common German Expressions, words about the Home and much more.
"•" Great value for money!
There are over 1,000 words in every German course.
---
Grab your Learn German 200 Words a Day CD-Rom by CLICKING ON A LINK BELOW. We aim to process all orders same day.


ORDER FORM
ORDER your 200 Words a Day! Learn German CD-Roms HERE.
Just click below NOW!
Turboblast your German Learning!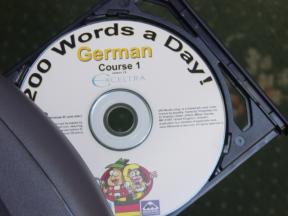 YES Kevin, I want to rapidly learn over 1,000 German words, each having:

Unique Memory Triggers© to help you learn German words and German phrases rapidly.
Cartoon pictures for every single word! including loads of animations.
Test your German vocabulary at any time as you learn German.
Your German Learning Rate measured in words-per-day is measured constantly.
Blitz and obliterate your Worst Words! They are constantly assessed.
Three Gender Triggers © for each and every word. Never forget a gender when you learn Gender.
Beat the German Neuter Trap with our unique patent pending Neuter Gender Trigger that we invented.
Native German speakers give you perfect German pronunciation to help you learn German.
Bookmark any word to put into your own special lesson.
Easy and fun for six users - each has their own private notes and passwords. Fun for the whole household.
100 most Common words used in 50% of German conversation.
Lots of most important common German phrases.
Over 40+ German lessons - Travel, Food, Restaurant, Hotel, Kitchen, German Counting, Family, Town, learn German Verbs, Common German Expressions, Home, Drink + lots more.
All Learning Styles for Multi-Modal German learning. Kinesthetic learning styles, Audio learning styles, Visual learning styles.
Superlearning Music gets your brainwaves effortlessly to the optimum learning state.
Extensive German Grammar notes throughout.
Build your own hand-picked German lessons too!
Easy on-screen help with a right click.
plus much, much more.
GET THE 200 WORDS A DAY!
LEARN GERMAN COURSES NOW
Click on link below to use the SECURE Payment servers of PAYPAL.
200 Words a Day! German 1 Combo 1,000+ words & e-Flashcardz & Sentences ...... US$67.00 / UK£34.50

US$67.00CD-Rom
Download

UK£34.95CD-Rom


Download
200 Words a Day! German Course 2 Combo1,000+ words & e-Flashcardz & Sentences ...... US$67.00 / UK£34.50

US$67.00CD-Rom



Download



UK£34.95CD-Rom



Download



Bonus: 200 Words a Day! 101 German Proverbs
200 Words a Day! German Courses 1&2 Bundle2,000+ words & e-Flashcardz & Sentences & FSI Grammar
US$127.00 / UK£63.50

US$127.00CD-Rom



Download



UK£63.00CD-Rom



Download



Bonus: 200 Words a Day! 101 German Proverbs
FSI German Grammar
System requirements; Windows 7 / Vista / XP / 2000 / 95
Apple MAC users
require previously-installed PC Emulator software to run our programme. We recommend VM Fusion.
Please select payment in either US$ br UK£
US$4.95 / UK2.50 postage added to CD-Rom orders.
Additional signedfor Delivery option below.
Download links will be sent as soon as possible after receipt of order.
365-day Money-back Guarantee applies if genuinely not to your satisfaction.
Extra SignedFor Delivery for CD-Roms
U.K. and Worldwide
US$5.50 / UK£4.00
Required for all African, Central and South American
and Asian countries.
Optional cover for rest of world - for peace of mind.
Signature obtained upon delivery. Insured and trackable.



Signedfor Delivery
US$5.50
Signedfor Delivery
UK£4.00
SECURITY NOTICE to POTENTIAL FRAUDSTERS:
All transactions are traceable.
Fraudsters will be prosecuted without exception.
---
Our Guarantee
Let me carry the risk ... not you.

Order the 200 Words a Day! system and you do so 100% at my risk.

If you don't like it - let me take the hit, not you.

For this reason your order comes with a 100% One Year Money Back Guarantee, with ZERO RISK for you.
If you are not totally 100% satisfied with the product, tell us why, we may be able to help. If you're still not sure, send it back for a refund (less postage).
Kevin Crocombe
Exceltra - 200 Words a Day!
Two Ways to Place Your Risk-Free Order
The quickest way to order is with Paypal's Secure Server using your Credit or Debit Card.
Or send us a check (cheque) to the address below.
We also accept phone orders using most credit and debit cards.
Please contact us for more details.
Check/cheque payments: Checks are accepted in the following currencies: $US Dollars, UK Pound Sterling, Australian Dollars, New Zealand Dollars, Canadian Dollars, Euros. Converted at the prevailing Paypal rate from US Dollars.
Please make checks payable to exceltra, and post to:
exceltra, Learn German 200 Words a Day, 32 Alverton, Great Linford, Milton Keynes, MK14 5EF, Buckinghamshire, England, United Kingdom.

Your order will be processed immediately.
---
What computers will our CD-Roms run on? Our programmes are suitable for the following operating systems: Windows 7, Windows Vista, Windows XP, Windows 2000, Windows Millenium, Windows 98, and Windows 95.
Apple MAC users require previously-installed PC Emulator software to run our programme. We recommend VM Fusion.


---
Kind regards,
Kevin Crocombe
Director
200 Words a Day! Excelerated Language Learning

P.S. If you find a more effective way of learning and remembering German vocabulary and genders please do let us know.

P.S. Remember there is a 365-day Money Back Guarantee on all purchases.


---
Learn German 200 Words a Day
©2004-2011 Copyright. Exceltra
Transcity Properties Ltd, 32 Alverton, Great Linford, Milton Keynes
Buckinghamshire, MK14 5EF, United Kingdom