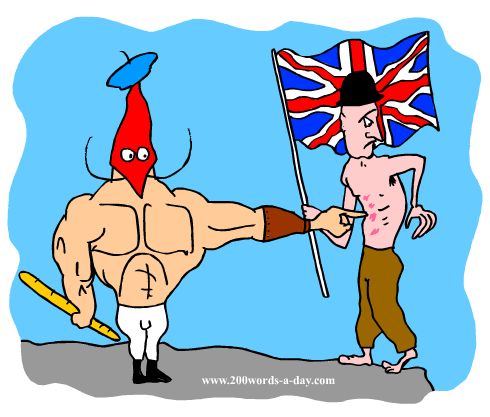 to torment: tourmenter
Imagine a Frenchman TORMENTS
an Englishman on TOUR.


Daily Verb Lesson: French for torment is tourmenter
The word in French for torment is the regular ER verb tourmenter. It also means to worry, rack, torture. To remember this, imagine a Frenchman, in the French colours TORMENTS an Englishman on TOUR.

Related words are: - le tourment: torment, torture, pain, worry
- tourmenté: distorted, broken, laboured
- se tourmenter: to worry oneself, (se faire du souci)
- ne te tourmentes pas pour si peu...
- la tourmente: storm, gail, turmoil

Cartoon Memory Triggers will help you speed up your French vocab learning. Don't torment your mind with slow, outdated techniques. When you want to remember a word... think of the pic!


VERB CONJUGATION TABLE tourmenter

Simple Tenses tourmenter

TENSE

je/j'

tu

il

nous

vous

ils

Present
Présent
torment
tourmente
tourmentes
tourmente
tourmentons
tourmentez
tourmentent
Past Imperfect
Imparfait
tormented
tourmentais
tourmentais
tourmentait
tourmentions
tourmentiez
tourmentaient
Simple Past
Passé Simple
tormented
tourmentai
tourmentas
tourmenta
tourmentâmes
tourmentâtes
tourmentèrent
Future
Futur
will torment
tourmenterai
tourmenteras
tourmentera
tourmenterons
tourmenterez
tourmenteront
Conditional
Conditionnel
would torment
tourmenterais
tourmenterais
tourmenterait
tourmenterions
tourmenteriez
tourmenteraient
Subjunctive
Subjonctif
may torment
tourmente
tourmentes
tourmente
tourmentions
tourmentiez
tourmentent

Compound Tenses tourmenter

Present Perfect
Passé Composé
have tormented
ai tourmenté
as tourmenté
a tourmenté
avons tourmenté
avez tourmenté
ont tourmenté
Past Perfect
Plus-que-Parfait
had tormented
avais tourmenté
avais tourmenté
avait tourmenté
avions tourmenté
aviez tourmenté
avaient tourmenté
Future Perfect
Futur Antérieur
will have
aurai tourmenté
auras tourmenté
aura tourmenté
aurons tourmenté
aurez tourmenté
auront tourmenté
Conditional Perfect
Conditionnel Passé
would have tormented
aurais tourmenté
aurais tourmenté
aurait tourmenté
aurions tourmenté
auriez tourmenté
auraient tourmenté
Imperative
Imperatif
torment!
tourmente !
tourmentons !
tourmentez !