200 Words a Day ! German
now with German e-Flashcardz
200 Words a Day! Memory Techniques now further enhanced with the e-Flashcardz photo visuals option
In addition to the unique 200 Words a Day! learning methods with memory techniques we have added these great photographic visuals with our new e-Flashcardz option, as an alternative way for you to learn and review foreign vocabulary.
The German Flashcards can be used independently as a stand-alone course or in combination with the 200 Words a Day! courses, giving you total flexibility and learning effectiveness.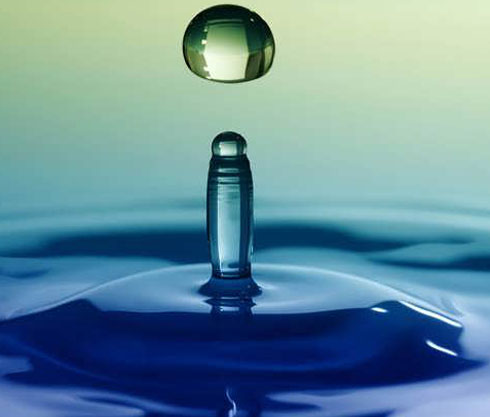 das Wasser = water in German
Displayed in the 200 Words a Day! software format, the e-Flashcard Mode offers you many of the same interactive features including:
Native speaker pronunciations
Multi-modal - visual, kinesthetic, audio.
Automatic testing and revision schedule with various pre-testing options.
Dictionary - Foreign word/English or English/Foreign Word
Build-your-own-Lessons
Databases for up to six users.
My Worst Words Lesson - updates automatically
Customise your foreign vocab learning to suit your style.
The only difference is there is a photograph of the word. The subject is depicted as accurately as possible, in lieu of the usual 200 Words a Day! memory association techniques. All the interactive features remain the same.
Work through the words in the lesson. Hear the word spoken by a native speaker as often as you wish. Practice its spelling and follow the testing schedule provided after completing each lesson.
Some learners prefer this way. For others who have completed our original courses with Memory Techniques, it's ideal for revision.
The Memory Trigger with cartoon page can still be easily accessed - you can effortlessly switch between the two modes, as you please.
---
So now you have total flexibility.
Purchase both options and switch effortlessly between the Memory Triggers and e-Flashcardz in an instant!
To see the word with Memory Trigger, click on the icon to the right of the photograph to drill down to the original 200 Words a Day! page.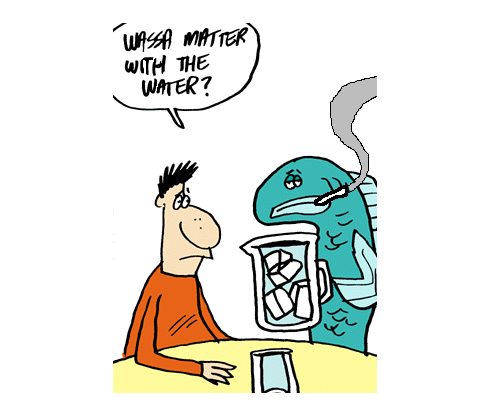 das Wasser = water in German
... imagine you ask the smoking fish (n),
"WASSA matter with the water?"
Then, just press Enter to return to your e-Flashcards lesson.
---
Add Sentences and extend your learning further
Click on the photo to view and hear the word in context. These are all written and recorded by native speakers. The Sentences courses also run as independent courses with their own lessons and testing schedule.
"Das Wasser ist erfrischend."

The water is refreshing.
---
A German e-Flashcardz Summary Page
Lesson 22: Food - Meat, Seafood and Drinks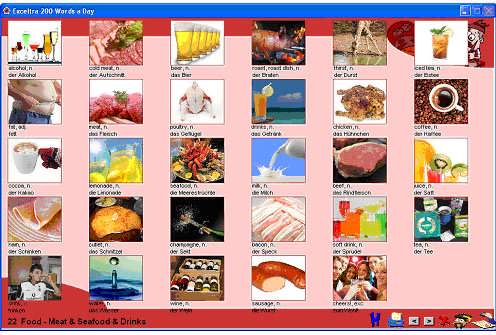 ---
Remember what makes the 200 Words a Day! language courses ideal for anyone wanting to learn German?
they're fun - you learn more when you relax and open up your sense of humor!
fully interactive with lots of innovative and interactive functions to customise your learning, making it more enjoyable and effective.
incredibly user-friendly, suitable for all ages and levels.
six users - databases for up to six students so each family-member can learn German at their own pace, with their own databases keeping track of learning rate, notes, lesson and testings schedules. See who learns German words fastest!
Every German word in each lesson gets a multi-modal make-over, with features including:
Visual / Kinaesthetic / Aural Learning Styles
Unique Memory and Gender Triggers

techniques for enhancing memory and effective memory retention
Native speakers for perfect pronunciaton.
Comprehensive self-testing and an optimum revision program


Optimal learning involves a smart revision schedule. The CD-Rom includes these and prompts you to revise and re-test yourself a day after you complete any lesson, then again at the scientifically researched Optimum Revision Times.
Ongoing scoring system


the inbuilt scoring system keeps you constantly updated on your progress with learning German.
Help function a click away


Just right click your mouse on the screen at any time you need assistance. It is easy and convenient.
Over 40 German lessons!


Up to 30 words in each German lesson covering topics such as Travel, Food, Counting, German Greetings, the Months in German, weeks in German, days in German, Family words, vocab about Town, German Verbs, Most Common German Expressions, words about the Home and much more.
Build your own lessons!
Great value for money!


Over 1,000 words in every German course.


---
Select your 200 Words a Day! German Courses and Delivery Option below:
200 Words a Day! German 1 Combo

1,000+ words & e-Flashcardz & Sentences
US$67.00 / UK£34.95

US$67.00
CD-Rom


Download

UK£34.95
CD-Rom



Download
200 Words a Day! German 2 Combo

1,000+ words & e-Flashcardz & Sentences
US$67.00 / UK£34.95

US$67.00
CD-Rom


Download


UK£34.95
CD-Rom



Download


Bonus: 200 Words a Day! 101 German Proverbs
---
200 Words a Day!
German Courses 1&2 Bundle

2,000+ words & e-Flashcardz & Sentences
US$127.00 / UK£63.00

US$127.00
CD-Rom



Download


UK£63.00
CD-Rom



Download


Bonus: 200 Words a Day! 101 German Proverbs

---
Please select payment in either US$ or UK£
US$4.95 / UK2.50 postage added to CD-Rom orders.
Additional signedfor Delivery option below.
Download links will be sent as soon as possible after receipt of order.
365-day Money-back Guarantee applies if genuinely not to your satisfaction.
Extra SignedFor Delivery for CD-Roms
U.K. and Worldwide
US$5.50 / UK£4.00

Required for all African, Central and South American
and Asian countries.
Optional cover for rest of world - for peace of mind.
Signature obtained upon delivery.
Insured and trackable.



Signedfor Delivery
US$5.50

Signedfor Delivery
UK£4.00
---
What computers will our CD-Roms run on?

Our programmes are designed for PCs including the following operating systems: Windows 10, Windows 8, Windows 7, Windows Vista, Windows XP, Windows 2000.
Suitable on any device supporting a Windows PC Operating System e.g. XP or Windows 8.
For Apple Macintosh users: The 200 Words a Day! Language Learning courses can run on your Apple Mac, but require the following previously installed:
1) A PC emulator, VMWare Fusion recommended. 
2) A PC System disc is also needed, either Windows 7, 8 (32 bit) or XP recommended.

CDs are required to install the programme on to a Mac.
Not suitable for ipads, iphones. 
---
Contact Us
Please contact us by email should you have require more information or have any suggestions for improvements.
We hope you may share your progress and successes with us.
---
200 Words a Day! and Exceltra
Copyright 2004-2023 All Rights Reserved.

Home ¦ Contact Us ¦ Privacy Statement