200 Words a Day!
Spanish, French, German
Italian, Welsh
Order Page
Yes! help me learn 200 Words a Day
of a foreign language!
Click the link at bottom right of picture on this Order Page to view and order all courses.
Check the other links for more specific course information for each language.
This software is designed for PCs. For Apple Macintosh users, please ensure you have Windows Emulator software pre-installed on your Mac, see below.
Learn SPANISH

amar = to love
Learn GERMAN

krank = ill, sick
Learn FRENCH

neiger = to snow
Learn WELSH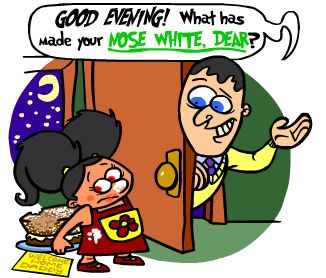 Noswaith dda! = Good evening!
Learn ITALIAN

la testa = head
Turbo-blast your language learning with our innovative CD-Rom courses - fun, effective, easy!
Over 1,000 words, in each with:

Individual Memory Triggers © help you learn Spanish, French, German & Italian Welsh words & phrases fast.

Cartoon pictures for each & every word! including animations.

Recommended with Sentences and e-Flashcardz options
Test & retest your vocab as you learn Spanish, French, German, Italian & Welsh.

Learning Rate calculated on a words-a-day basis after every test.
Blitz your Worst Words!

3 Gender Triggers © for each word. Never forget a gender when you learn Spanish, French, German & Welsh.

Native speakers for perfect pronunciation help you learn Spanish, French, German,Italian & Welsh.

Easy & fun for 6 users - all with own databases and passwords. Great for all the family.

Write-your-own-Notes for each word.

100 most common words used in 50% of Spanish conversation, French conversation, learn German, learn Italian and Welsh conversation.

Lots of common phrases.

Over 40 lessons Food, Counting, Family, Town, Travel, Verbs, Common Expressions, Home & lots more.

All learning styles for Multi-Modal learning. Kinesthetic, Audio, Visual.

Superlearning Music gets brainwaves to optimum learning state.

Grammar notes.

Build your own lessons too!

Easy on-screen help.

School and institutional Site Licences available, including Managed Learning Environment version.
& much, much more.

---
The 200 Words a Day! 365 Day No Risk Personal Guarantee ...
If you, like me, hate to make a mistake, I make your purchase 100% risk free.
Let me carry all the risk for you.

If you are genuinely not satisfied for any reason, let us know, return the CD and we will refund the purchase price. This guarantee applies for 365 days, a full year. That is a personal promise. We do this because we believe in our product and because we trust our customers' integrity. We can usually help sort out any queries, and appreciate feedback.

Thank you.
Kevin Crocombe, Director

---
Which computers will our software run on?
Our programmes are designed for PCs including the following operating systems: Windows 10, Windows 8, Windows 7, Windows Vista, Windows XP, Windows 2000.
Suitable on any device supporting a Windows PC Operating System e.g. XP, Windows 8 or 10.
For Apple Macintosh users: The 200 Words a Day! Language Learning courses can run on your Apple Mac, but require the following previously installed:
1) A PC emulator, VMWare Fusion recommended.
2) A PC System disc is also needed, either Windows 7, 8 (32 bit) or XP recommended.

CDs are required to install the programme on to a Mac.
Not suitable for ipads, iphones.

---
Course Downloads
The Combo/Bundle courses are available to download so you can begin building up your 200 Words a Day! vocabulary without delay.
For Download Orders, the links with instructions are sent immediately by email after you have completed your order. If the email doesn't appear, please check your spam filter.
If you order CDs we can also send you the download link at no extra charge - please contact us.
---
Tutorial / Tips and Tricks
We recommend you begin by running through our Tutorial (Lesson 0). It takes you through all the features of the programme.
You can also subscribe to the free 200 Words a Day! Tips and Tricks emails. Sent every few days, they provide useful reference material, so you can make the most of your course. You may unsubscribe at any time by clicking the link at the bottom of each email.
---
Alternative Payments
Please note: You do not need to open a Paypal account to purchase, just provide your credit/debit card.
We also accept checks/cheques in US$ or UK£, made payable to 200 Words a Day! Please send to our address below.
---
Subscribe to the free 200 Words a Day! e-zine to keep updated.
Our ezine newsletter by email gives you news and views and information about accelerated learning and the 200 WORDS A DAY! courses. You may unsubscribe whenever you wish.

Click for the free ezine HERE.
---
ON THE LIST TO GET FINISHED!

Excelerated Learning Spanish Grammar and Verbs
Excelerated Learning French Grammar and Verbs
Indonesian Course 1
Advanced English Course 1
Cook Island Maori Course 1
---
---
200 Words a Day! Order Page
Exceltra, 32 Alverton, Milton Keynes,
Buckinghamshire, MK14 5EF, United Kingdom.
Tel: (+44) 1908 676 873
---
Company no 3845628 Registered in England, UK.
Copyright 2004- All Rights Reserved. 200 Words a Day! Order Page and Exceltra
are trademarks of Transcity Properties Ltd.
Contact Us ¦ Privacy Statement