Try these German words and you'll see that it is easy to learn 200 words a day using our modern, fun, crazy techniques!
The German word for
wall
is
die Mauer
which sounds like MOWER. . .
. . . a motor MOWER.
So you just imagine a wall and into it, Demi Moore drives a motor MOWER!
...with interesting results.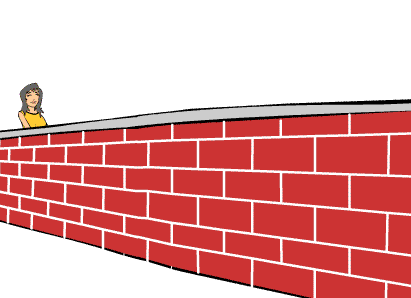 Wow this one is packed with memory triggers.
die is the word for 'the' in German for feminine things.
The Wall in German is feminine. . .
. . . so you are presented with a female character, DEMI MOORE the actress. Also the font used is red to remind you that it is feminine.
Note how her name sounds a little bit like die mauer especially if you just use her initials D. MOORE!
...and on the course a native German speaker (female voice for a feminine thing) will give you the correct pronunciation for all our words in the course.
Here is another . . .
The German word for
knife
is
das Messer
which sounds like MESS.
So you need to imagine a MESS being made by a smoking ape who, with a large knife is chopping up a brass instrument.
The smoking animal is our patent pending technology that we use to remind that the word is neuter. . .
(in the same way that we use a male character for masculine words and female characters for feminine words.)
So the smoking ape reminds us the word is neuter.
....and with his knife it is making a MESS!
There's actually a bit more to this memory trigger yet. . .
We've have sneakily added another feature into the drawing.
Notice how the MESS the smoking ape is making is from chopping up a brass instrument. . .
. . . well that was deliberate because . . .
das Messing is the word for brass!
and so you can learn two words with the same cartoon!
Here is another one for you...
The German for ....
elevator
is
der Fahrstuhl
which sounds like FAR STOOL.
so imagine a male elevator attendant standing in the elevator on a FAR STOOL, a stool far in the corner of the elevator.
Of course each course is packed with over 1,000 pictures, and memory triggers, one for each word. . .
. . .and what's more . . .
. . .the course tests you, keeps your scores, and gives you your rate of learning per day calculated and recorded on your own computer.
TO GET YOUR 200 WORDS A DAY! COURSE CLICK HERE
>>> Click to GET YOUR 200 Words a Day Course now !
TO READ MORE CLOSE THIS WINDOW BY CLICKING ON THE LITTLE 'X' IN THE TOP RIGHT CORNER or YOU CAN CLICK THE LINK.
>>> Click here to read more about 200 Words a Day! language learning.
---
200 Words a Day! Copyright 2004-2009 exceltra, Transcity Properties Ltd, 32 Alverton, Great Linford, Milton Keynes, Bucks MK14 5EF, United Kingdom. email: info@200words-a-day.com