e-Flashcardz: Italian Flashcards Software with Photos, Voice and Testing
Are you a visual learner?
Do you prefer learning or revising with flashcards?
200 Words a Day! Learn Italian incorporates the popular e-flashcard option - that is, traditional flashcards learning only interactive!
The Italian flashcard option gives you an alternative, visual way to learn Italian vocabulary.
The Flashcards can be used as an independent, stand-alone course.
They can also be combined with the 200 Words a Day! Memory courses - tick the box to switch between the Flashcards and Memory Triggers at any time during your learning and revisinng.
You can customise the learning method to suit your learning style.
The e-Flashcard Mode offers you many interactive features including:
Over 1000 words
Native speaker pronunciation
Multi-modal - visual, kinesthetic, audio
Automatic testing and revision schedule with various pre-testing options.
Dictionary - Foreign word/English or English/Foreign Word
Build-your-own-Lessons
Databases for up to six users.
My Worst Words Lesson - updates automatically
In addition, the Memory Trigger with cartoon can be easily accessed for every word - just click on the icon on the word page to effortlessly switch between the two modes
Work through the words in the lesson. Hear the word spoken by a native speaker as often as you wish. Practice its spelling and check you have remembered it by completing the test after each lesson.
Sample Flashcard Summary Page - Lesson: Family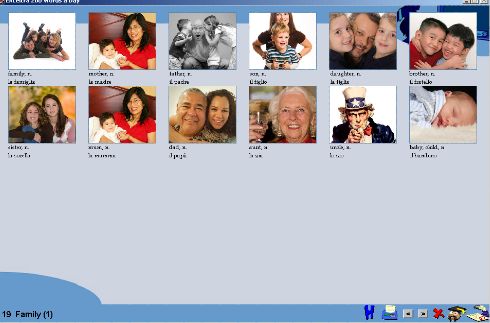 Some learners prefer this method of learning. For others who have completed our original courses with Memory Techniques, it makes a perfect alternative for revision.
So now you have total flexibility.
The 200 Words a Day! Learn Italian Combo 1 incorporates both options as well as Sentences and a new Grammar Slammer module.
---
Super Learn Italian Language the Fast, Easy and Effective Way at ...
200 Words a Day! Italian Flashcards

 200 Words a Day! and Exceltra
© Copyright 2004-2023 All Rights Reserved.