Learn Spanish in Caceres
Learning 'pure' Spanish in a 'pure' environment ...
There are a dozen powerful reasons to
learn Spanish in Caceres
, Extremadura, Spain. Most importantly, it is off the beaten track, meaning that it is a chance for you to learn 'pure' Spanish in a 'pure' Spanish environment.
By pure, I mean, the whole of the Extremadura is less tainted by sun-reddened lager louts that fly in and flop on the beaches of the Spanish
costas
. It is less influenced by outsiders, less geared to sucking money from tourists' pockets. Cáceres is a little off the beaten Spanish track, so it is kind of
'untouched'
(to stretch the analogy, but you know what I mean...)
What I like most about Cáceres is exactly this. Its relative isolation. Its
genuine 'Spanishness'
.
Twelve Reasons for Learning Spanish in Cáceres
1. Extremeños exude good mood!
People in Extremadura will help visitors have a fantastic time and enjoy what surrounds them. This, according to Jorge Jimenez, a native Extremeño and Spanish language and English language teacher,is because "good mood is one of the most remarkable features of Extremaduran dwellers." It must the baking sun, the open spaces, the proximity of the mountains, wide expanses of farmland, the clean air. A lot fewer people here speak English, than in bigger cities like Madrid, and the tourist hotspots on the coast. Which is a bonus for you when practising your Spanish skills. You are less able to revert to English speaking!
2. Hospitality
Whenever a foreigner is in trouble, Jorge explains that people in Extremadura will not hesitate to assist in whatever way they can. Extremeños enjoy helping, it makes them feel better and thus make others feel at home. And a great way to practise your Spanish.
3. History is part of Extremadura
Different cultures and opposing worlds have blended over the ages to make this a lively living museum. Romans, Arabs and Christians all inhabited these lands over the centuries and their descendants cohabit in harmony, proud of their origins, conscious of their backgrounds.

One of the most famous sons of Extremadura, and of the city of Cáceres, is Hernan Cortes, the Conquistador of Latin American fame... (or notoriety depending on your viewpoint).

The history of the region is manifested in its many old buildings, monuments, churches with ample evidence of the various epochs.

One of the highlights of our trip was stumbling on a small Arab museum in the back streets of the old town. Arabs (or Moors) once ruled much of southern Spain for 700 years, and this museum was once the stately home of a successful Arab merchant. It featured central heating to all its many rooms, fuelled by a fire in the basement, a large heated indoor bath, courtyards built to provide a cool shelter from the summer's swelter. This gentleman really knew how to live!

| | |
| --- | --- |
| | |
The long reign of the Arabs throughout much of the Iberian peninsula left its mark in many ways including the language and thousands of words from Spanish have been taken from Arabic.
4. Nature in Extremadura
Extremadura has been labeled as the Nature's last paradise in Spain, and its dehesa meadow is unique in the world. The dehesa is a vast undulating grassy plain dotted with oak trees that presents a beautiful and welcoming landscape upon which livestock graze. It spans thousands of square kilometers often as far as the eye can see. The oak trees provide not only respite from the summer sun, but a source of acorns to fatten the local porkers before they are butchered for the nation's table.

Much of the region is protected by government decree with vast tracts of protected biodiversity areas.

We visited Monfragüe where dozens of birds of prey circled the river hunting for hapless animals that would provide them a tasty meal. There are some great viewing spots in the canyon with parking facilities that have been constructed by the authorities. We were not expecting to see eagles in Spain, but there they were, in their natural habitat in their dozens.
5. Access is easy... yet Extremadura is isolated...
While parts of the region are not at well connected as other parts of Spain, it is still very accessible. It is
accessibly isolated.
This becomes a major plus, as you are more likely to be forced to
use
your Spanish. The more you use it, the more you will improve it.
Known for a long time as
España Profunda
, links to the region have seen dramatic improvements with the recent development of an impressive dual-carriageway network that traverses Spain, linking North to South alongside the
Ruta de la Plata
and the Iberian peninsula East to West from Madrid to Lisbon.
One of the great pleasures that we enjoyed was that there are very few tolls to pay on the excellent highways. I guess that will change as the Spanish take their turn to impose 'austerity' measures to pay for the profligacies of their banks who funded a massive building bubble that is teetering at time of writing (2011). It makes a change from the driving in France where one is stopping frequently to zip the credit card through the toll-booths.
6. Gastronomy ... eating new foods introduce new words as you learn Spanish in Caceres
A discourse on Extremaduran gastronomy could fill volumes. The region's many specialities include Iberian hams and many cheese varieties, coupled with some excellent red wines whose reputations are growing in the marketplace. Other specialities are cherries, paprika, home desserts...

The Iberian hams are something to behold and are made in a uniquely Extremaduran way that I had not before encountered.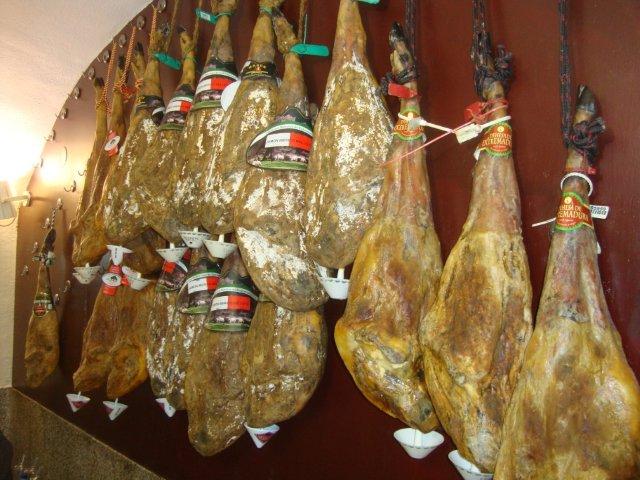 Iberico hams take pride of place on the walls and ceilings
of many a Cáceres restaurant.
The local breed of pigs is a tall, hairy specimen that grazes on large expanses of the
dehesa
grassland that are peppered with oak trees. When the oaks drop their acorns the pigs gorge themselves on these windfalls, and at the end of the season, those of the right maturity, appropriately fattened are slaughtered. The meat is salted, hung to dry for some months before put on sale.
You will see the legs of ham -
jamón ibérico
hanging in virtually every restaurant in Cáceres, where they are a local staple.
They are served in a myriad of ways, and virtually every part of the beast is used ... including the pigs' cheeks (morros) below, served on a tostada, a slice of toast.
It tastes just like, well pork, a little fatty maybe, but when told that they are pig's cheeks the diner sometimes baulks!
7. Weather
Peace is in the Extremaduran air...
This sunny, easy Spanish region is bathed in calm, inhabited by down-to-earth folk who enjoy a nice chat to befriend visitors.
Sunny days keep Extremadura company, warm weather filled in with blue sky hours to enjoy any outdoors activities, thrilling sunsets at meadows. Cold in winter comes, but not to the depths that northern Europeans see.
The combination of natural spaces and mild weather, added to historical traces and preservation of traditional local festivities, seasoned with high-standard facilities... and all at affordable costs makes Extremadura a perfect destination to learn Spanish through language-culture immersing off the conventional paths.
8. Culture & Customs Mix
The history of Extremadura has been embroidered with influxes of different civilizations, whose cultures have left a priceless heritage. Extremadura is not afraid to welcome 'the foreign' rather, they appreciate the value it means to keep on growing.
9. Linguistic Level
Any Spanish learner coming to Spain should look for places s/he is forced to speak the native language all the time. Adapting to local customs and language results in maximizing the learning effects. Extremadura helps foreign people feel comfortable... which is a great bonus for those of you learning and practising your Spanish speaking.
10. Spanish Spoken in Extremadura
Places such as Madrid or Salamanca have been traditionally regarded as having the 'best' Spanish spoken in Spain. And that is probably true says Jorge ... Salamanca has built a world renowned industry of teaching Spanish based on this reputation. However, the learner of Spanish has different needs to the simple visitor, and in the heavily touristy places like Madrid it can be increasingly difficult to gain a feel for the essence of any folk: customs, traditions and native language.

The Spanish spoken in Extremadura and its accent, especially in Cáceres, is open, and is clearer than what is heard in many other Spanish regions. So while it does not have the 'brand' of Salamanca it is just as great to learn Spanish in Caceres as in those other cities of Spain which have built their reputations!
11. Things are a bit cheaper here ...
Being off the beaten track things are quite a bit cheaper than cities like Madrid, and the tourist hotspots like the
costas
beach regions. This can lead to significant savings for the student of Spanish in terms of accommodation costs, food costs, language school costs.
12. We can help you ...
The
200 Words a Day
team can help the Spanish learner in all aspects of immersion learning on location in Spain with our local teacher there Jorge. Jorge is available to take you on anything from a short course, to a guided immersion tour, where you can see the city of Cáceres and practise your Spanish.
Contact us for more information if you would be interested to learn Spanish in Caceres
.
200 Words a Day! Accelerated Language Learning
Learn Spanish | Learn French | Learn German | Learn Italian | Learn Welsh | Contact
---
12 Reasons to Learn Spanish in Caceres. Immersion Spanish learning in Extremadura with the 200 Words a Day!
Transcity Properties Ltd trading as exceltra, 32 Alverton, Great Linford, Milton Keynes, Buckinghamshire, Mk14 5EF, United Kingdom
Serving fast language learning to the world including Europe, USA, Canada, Australia, New Zealand, Africa, Asia and the Americas. ©
Come to Extremadura and Learn Spanish in Caceres (Cáceres)