Learn Spanish quick & easy - using these Learn Spanish pics and memory triggers. . .
Learn Spanish the easy way with 'Learn Spanish pics!'
The Spanish word for through is . . .
por
So just imagine . . .
you see a man POUR his glass of water through the open window!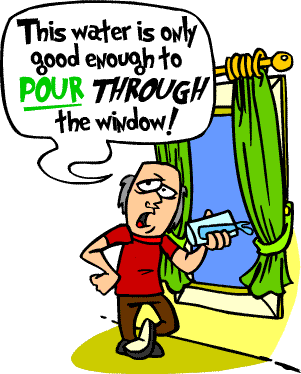 Pretty easy, don't you think?
Just have a good look at the picture and remember it.
In the course a Spanish voice tells you the word, and you will also hear the Memory Trigger read aloud, increasing the number of learning modes and styles. . .
and improving your learning.
Here's another one . . .
The Spanish word for
plumber
is
el fontanero
sounds a bit like FOUNTAIN HERO.
So we get you to imagine a plumber fixing the plumbing on the FOUNTAIN HERO. . . being a bust of Emperor NERO.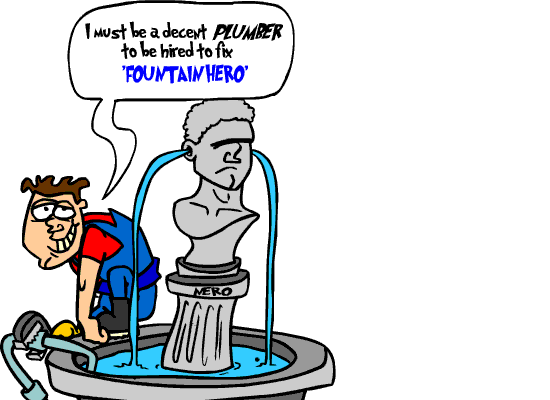 You will note in the picture, that both the plumber and Emperor Nero are masculine so this reminds us that the word is masculine word.
This is the gender trigger in action!
The word el fontanero is written in blue further reminding us that it is a masculine word.
So you learn Spanish genders at the same time that you learn Spanish words.
A handy word for travellers might be....
beer
la cerveza
which sounds like SERVE US A beer!
So we have a picture of a lady asking a barmaid (... both female characters for a feminine word)to ....
'SERVE US A' beer!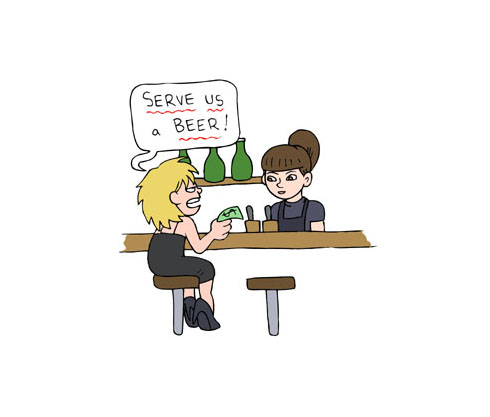 You can see how easy we have made foreign language learning easy, with powerful recall capabilities. . .
There are dozens and dozens more features to the course...
. . . and with tools like this you can comfortably learn Spanish at over 200 words a day . . . and remember what you learn. . .
TO FIND OUT MORE CLICK ON THE LINK NOW. . .

Get your 200 Words a Day! programme. Learn Spanish the easy way using Learn Spanish pics!

---
Learn Spanish Pics
200 Words a Day! and Exceltra 
©Copyright 2004-2023 All Rights Reserved