Learn the Spanish for mother

la madre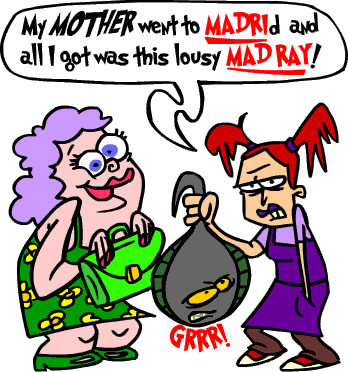 ... your mother (f) has bought you a


MAD RAY

in

MADRID.
---
To learn words like the Spanish for mother, a WORD ASSOCIATION cartoon like this makes it so easy.
BUT, as well as making it easy to remember the word, the cartoon has a number of important elements... including a way to remember the GENDER of Spanish words.
Why a mother with a MAD RAY?
The word in Spanish for mother - la madre - is a feminine word.
In this case, the word mother is naturally feminine. However not all nouns are given the most obvious gender.
The 200 Words a Day! programme helps you remember the gender of all nouns using our built-in Gender Triggers in every word.
For all feminine nouns the main cartoon character is a female, the word is recorded by a native female Spanish speaker, red colour-coding is used.
You'll automatically remember these effective Gender Triggers, when you recall the picture. No need to re-learn the gender after the word, but learn them at the same time.
Save yourself time and energy and make learning words like Spanish for mother quick, easy, effective and fun.
---
Spanish Sentences - help you learn the word in action.
Mi
madre

cocina muy bien.
My mother cooks very well.

Native Spanish speakers have written and recorded sample sentences for all the words in the 200 Words a Day! Learn Spanish courses. Hear native intonation and exposure to a variety of accents.

Simply click on the picture, in the language learning software, to see and hear a sample sentence of the word llke Spanish for mother. Learn, practice and use the sentences yourself in everyday conversation. Add them to your arsenal of Spanish words.

Extend your learning with new words, expressions and everyday Spanish conversation.

As well as the drill-down function from the Word Pages, the Sentence Course can be run as an independent course, with its own lessons, testing and revision schedules.
---
Tick the box for Spanish e-Flashcardz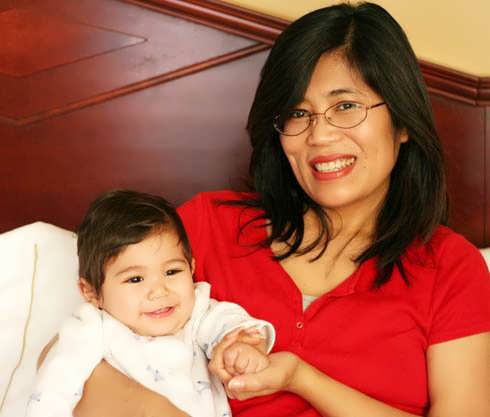 Click on the e-Flashcardz option in the Settings Page for great photographic images as a visual alternative. Works like the traditional flashcards method, only improved with all the interactive learning features of our software. Hear the Spanish word spoken by a native speaker.... and click on it again and again to hear it repeated.
The Spanish e-Flashcardz complement the 200 Words a Day! Memory Triggers, by giving you another learning option, particularly useful when you get to the testing and revision and revision stages.
You can switch between the Memory Trigger and e-Flashcardz modes at any time.

---
Get your 200 Words a Day! Spanish Course below:
200 Words a Day! Spanish 1 Combo

1,000+ words & e-Flashcardz & Sentences ...... US$67.00 / UK£34.50

US$67.00
CD-Rom


Download

UK£34.95
CD-Rom


Download

Bonus: 200 Words a Day! Spanish 1 e-book printable .pdf
200 Words a Day! Spanish 2 Combo

1,000+ words & e-Flashcardz & Sentences ...... US$67.00 / UK£34.50

US$67.00CD-Rom



Download



UK£34.95
CD-Rom



Download



Bonus: 200 Words a Day! 101 Spanish Proverbs
200 Words a Day! Spanish 1&2 Bundle

2,000+ words & e-Flashcardz & Sentences
US$127.00 / UK£63.50

US$127.00
CD-Rom



Download



UK£63.00
CD-Rom



Download



Bonus: 200 Words a Day! Spanish 1 ebook / 101 Spanish Proverbs
Please select payment in either US$ or UK£
US$4.95 / UK2.50 postage added to CD-Rom orders.
Additional signedfor Delivery option below.
Download links will be sent as soon as possible after receipt of order.
365-day Money-back Guarantee applies if genuinely not to your satisfaction.
Extra SignedFor Delivery for CD-Roms


U.K. and Worldwide
US$9.95 / UK£5.50
Required for all African, Central and South American
and Asian countries.
Optional cover for rest of world - for peace of mind.
Signature obtained upon delivery. Insured and trackable.


Signedfor Delivery
US$9.95
Signedfor Delivery
UK£5.50
---
What computers will our CD-Roms run on?
Our programmes are designed for PCs including the following operating systems: Windows 10, Windows 8, Windows 7, Windows Vista, Windows XP, Windows 2000.
Suitable on any device supporting a Windows PC Operating System e.g. XP or Windows 8.
For Apple Macintosh users: The 200 Words a Day! Language Learning courses can run on your Apple Mac, but require the following previously installed:
1) A PC emulator, VMWare Fusion recommended. 
2) A PC System disc is also needed, either Windows 7, 8 (32 bit) or XP recommended.

CDs are required to install the programme on to a Mac.
Not suitable for ipads, iphones. 
---
200 Words a Day! Learn Spanish for Mother

200 Words a Day! and Exceltra 
©Copyright 2004-2023 All Rights Reserved