Your French Pronunciation Guide
Download free, from 200 Words a Day!
This 200 Words a Day! French Pronunciation Guide, produced for us by Dorothée Huleux, is a quick and easy-to-understand introduction to help you understand the quirks of French Pronunciation.
Hear Dorothée pronounce the French alphabet and analyse the sounds of the vowels and consonants clearly and concisely, giving several examples of many different French sounds.
It is an ideal starting point for anyone learning the French language.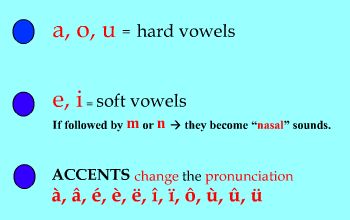 Discover how a letter can change its sound depending on:
            its position within a word.

            the various combinations with other letters.

            whether it has an accent.


The 200 Words a Day! French Pronunciation Guide is great for:
  hearing a native speaker pronouncing French sounds.
  practising French sounds out loud with Dorothée.
  repeating sounds as often as you wish, just click on the buttons.
  learning the main differences in French sounds
  use as reference material.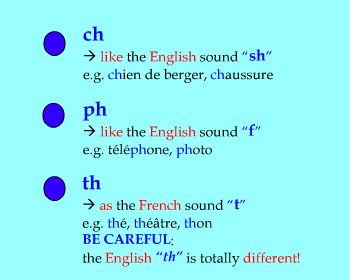 For example: The French "u" sound as in:

The French word lu (past participle of to read) and the letters ou as in loup (wolf).

This u sound is not replicated in English (the English u sounds more like the retort that Paris Hilton makes when she does not like something or someone - "Eeeeuuw!" (I really don't think you can spell it, but it is American teenage speak for 'yuk'.)
The French u sound is similiar to the sound in the English word tool.


Get your download now - Free!
Just fill in this form.
200 Words a Day!
French Pronunciation Guide
Fill in the form to receive an email containing the free download link.

There is absolutely no obligation to purchase any product.


This free French Pronounciation Guide is a software program to install onto your PC.
It's presented in the user-friendly and interactive software format used for the 200 Words a Day! accelerated language learning programmes.
For Apple Macs you will a need previously-installed PC Emulator software (e.g. VMWARE).
We trust you will enjoy your free guide to French pronunciation.
Grab it now.


Learn French Vocabulary and Sentences with Native Speakers| French Proverbs
French e-Flashcards free download | Free French Lessons |
---
Free French Pronunciation Guide - Software Download
Free French Lessons from 200 Words a Day!
Transcity Properties Ltd, 32 Alverton, Great Linford, Milton Keynes, MK14 5EF, U.K.
Accelerated French language learning. Available USA, Canada, Australia, Asia, Europe.