Learn German Sentences
with our accelerated learning
vocab courses.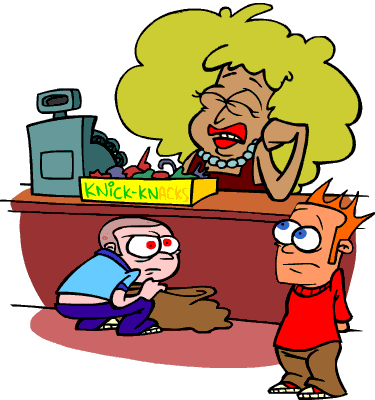 nicken = to nod
... imagine two naughty boys stealing or NICKIN' 
things from a shop selling KNICK-knacks 
- as the shopkeeper falls asleep one of them nods 
allowing the other to keep NICKIN' things from the counter.
Click on the picture to see and hear a sample sentence
of the word in use:
Sie nickte mit dem Kopf.= She nodded her head.
---
See, hear, practice and learn typical, everyday German Sentences.
Designed to complement the Learn German 200 Words a Day! Vocabulary Courses 1 & 2. Help consolidate your learning of a word, and see it in a 'real life' context.
Written and recorded by native German speakers, listen to the pitch perfect German pronunciation of a person whose mother tongue is German.
Improve conversation through learning German sentences and putting them in practise. Help to build your confidence in learning to speak German and mastering the language. You will see many of the subtleties and shades of meaning of a German word or phrase, and whether its use is the same or different to its English equivalent.
The sentences cover all the different tenses of German, from present tense, future, past tenses, conditional, subjunctives and imperatives (commands). Check the Sentence structure. You will also see lots of verbs in all their various forms, too.
Over 800 sentences in each Sentence course. These are packed with thousands of German words, including all the words taught in the related German vocab course (1 and 2), as well as hundreds and hundreds of new words and expressions.
Combine with our Vocabulary Courses ...
While studying a Vocabulary Lesson, simply click on the picture to drill-down and access the Sentence incorporating the word you are learning.
Click Enter to return to your Vocab lesson.
... or run as an Independent Module
Complete with own Lessons, Testing and Learning Schedule. Simply click on the Sentence Course in the Course Menu.
Type out the German sentence in the kinesthetic learning mode, all of which helps your German language learning and your memory retention. The more 'learning modes' incorporated in your learning - the better.
After the lesson a test is made available, so you can see how well you remembered the sentence, and the vocabulary in it. The sentences will introduce you to hundreds of new words also, and these build on the basic structure and foundations laid in the 200 Words a Day! German vocabulary courses.
This same test you can take at any time, by selecting if from the Menu page.
Choose the way you enhance your learning.
You can BLITZ through the vocabulary first ... You can either finish the 200 Words a Day! vocabulary course first. This gives you a solid base of German vocabulary.
Then you can do the German sentences courses, and will then see each of the words in action. In this way, you can surge through the vocabulary learning at a rapid pace, which the 200 Words a Day! system allows.
Then you can consolidate the vocabulary learnt, with the sentence learning practice that these 'Learn German Sentences'courses will give you.
Our courses automatically prompt you to review the learned German vocabulary at certain timed 'optimum learning intervals'.
These are the learning intervals that educational scientists say are the best for reviewing previously learned material. Put another way - when you learn something, you should review it again after the initial learning process. The experts tell us that these 'review periods' are 1 day, a week, month, 3 months and then again after a year.
So our program will automatically remind you to return to a lesson and review it after 24 hours, then once again after a week, a month, a quarter and again after a year.
...or do them together...
Another way you can structure your German learning, using the 200 Words a Day! system is to first do the German vocabulary lesson, then immediately after that do the 'Learn German Sentences lesson, immediately thereafter. This consolidates the learning, and of course, German practice makes perfect.
Or you can do the vocabulary lessons on one day, then do the sentences the next day.
The choice is yours ...
---
Get yourself a
200 Words a Day! German Course!
200 Words a Day! German 1 Combo

1,000+ words & e-Flashcardz & Sentences
US$67.00 / UK£34.50

US$67.00
CD-Rom


Download

UK£34.95
CD-Rom


Download
200 Words a Day! German Course 2 Combo

1,000+ words & e-Flashcardz & Sentences
US$67.00 / UK£34.50

US$67.00
CD-Rom



Download



UK£34.95
CD-Rom



Download



Bonus: 200 Words a Day! 101 German Proverbs
---
200 Words a Day! German Courses 1 & 2 Bundle2,000+ words & e-Flashcardz & Sentences


US$127.00 / UK£63.50

US$127.00
CD-Rom



Download



UK£63.00
CD-Rom



Download



Bonus: 200 Words a Day! 101 German Proverbs
FSI German Grammar
---
Please select payment in either US$ or UK£.
US$5.50 / UK3.50 postage added to CD-Rom orders.
Select extra signedfor Delivery option below if required.
No postage added for downloads.
365-day Money-back Guarantee applies if genuinely not to your satisfaction.
ADD Extra SignedFor Delivery U.K. and Worldwide
US$9.95 / UK£5.95 For peace of mind.
Required for all African, Central and South American, and Asian countries.
Optional cover for rest of world.
Signature obtained upon delivery. Insured and trackable.


Signedfor Delivery
US$9.95
Signedfor Delivery
UK£5.95
SECURITY NOTICE:
All transactions are traceable. Fraudsters will be prosecuted without exception.
---


What computers will our CD-Roms run on?
Our programmes are designed for PCs including the following operating systems: Windows 10, Windows 8, Windows 7, Windows Vista, Windows XP, Windows 2000.
Suitable on any device supporting a Windows PC Operating System e.g. XP or Windows 10.
For Apple Macintosh users: The 200 Words a Day! Language Learning courses can run on your Apple Mac, but require the following previously installed:
1) A PC emulator, VMWare Fusion recommended.
2) A PC System disc is also needed, either Windows 7, 8 (32 bit) or XP recommended.

CDs are required to install the programme on to a Mac.
Not suitable for ipads, iphones.

---
Contact Us
Please contact us by email should you have require more information or assistance.
---
Learn German | German e-Flashcardz
View and Order 200 Words a Day! German Courses
Superlearning German the accelerated way - and making language learning, remembering vocabulary and recalling German words easy.

---
Learning German Sentences in conjunction with exceltra's 200 Words a Day! system of
excelerated (excellent accelerated) language learning.

200 Words a Day! and Exceltra 
©Copyright 2004-2023 All Rights Reserved 
Learn German Sentences