German Lesson: Mercedes - The Brand

Mercedes - die Marke
Mercedes - Eine Marke, die nicht nur in Deutschland für elegante, sportliche und edle Autos steht, Emotionen verkörpert und als Technologieführer gilt. Entstanden 1926 durch den Zusammenschluss der Daimler-Motoren-Gesellschaft und der Benz und Cie, produziert Mercedes bis heute einige der schönsten und teuersten Autos der Welt.

Der wahrscheinlich betuchte Kunde begegnet bei Mercedes einem riesigen Sortiment, das von kleinen Stadtautos über robuste SUV's und Firmenwagen bis hin zu edlen Sportwagen reicht.

Diese Fahrzeuge setzen nicht nur technologische Maßstäbe, sondern auch qualitative. Mercedes bietet als einzige Marke eine lebenslange Garantie auf alle Fahrzeuge.

Ein Rückblick: Am Anfang des 20. Jahrhunderts wurde Mercedes-Benz gegründet. Der Käufer des ersten gebauten Mercedes war der in Nizza lebende und in Leipzig geborene Kaufmann Emil Jellinek. Der Automobil-Liebhaber nahm damit an Rennen teil und engagierte sich schnell als Großhändler. Jellinek unterbreitete schnell einen Vorschlag: Der neue Wagen solle den Namen seiner zehnjährigen Tochter übernehmen: Mercedes.

Heute ist die DaimlerChrysler AG der größte Automobilhersteller. Neben Mercedes-Benz gehören auch Freightliner, Sterling, Thomas Built Buses, Setra, Western Star, Orion, American LaFrance, MTU und Detroit Diesel zur Firmenkette.

Zurzeit zählt die Marke etwa 7 Millionen Kunden, die insgesamt rund 12 Millionen Mercedes-Benz besitzen. All diese Menschen fahren nicht irgendein Auto, sondern die zeitgemäße Interpretation des Mythos "Mercedes".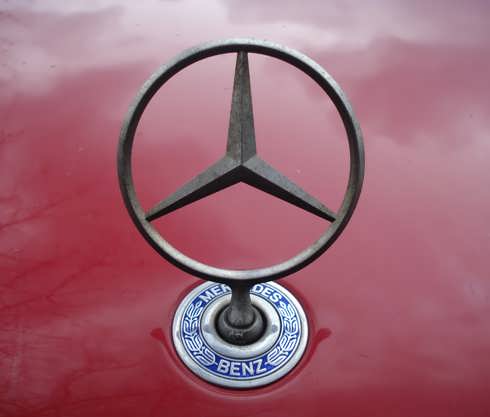 This photo is one taken from our German e-flashcardz course, a software programme that teaches German vocab with photos for each word, and that can be used in conjunction with our 200 Words a Day software. Course 1 German e-Flashcardz contains 1,000+ words, as does Course 2 German e-Flashcardz.
Mercedes - the Brand
Mercedes - A brand, known not only in Germany, for graceful, sporting and elegant vehicles, embodying emotions and leading edge technologies. Founded in 1926 due to the fusion of the "Daimler-Motoren-Gesellschaft" and "Benz and Company", Mercedes has continued producing some of the most beautiful and pricey cars in the whole world.

The most probably well-heeled costumer is offered a huge product range, from small city cars to solid SUV's, from business automobiles, to kingly sports cars.

These vehicles are not only setting technological benchmarks, but quality ones too. Mercedes is the only brand worldwide that grants a lifetime guarantee on every vehicle purchased.

A flashback: At the beginning of the 20th century Mercedes-Benz was founded. The buyer of the first Mercedes ever built was Emil Jellinek, a businessman living in Nizza and born in Leipzig. The automobile-lover took part in races with it and started working as a wholesale trader for Mercedes. Soon, Jellinek submitted a new suggestion: Name the new Mercedes like Jellinek's daughter - Mercedes.

Today, the DaimlerChrysler AG is the biggest global automobile manufacturer. Apart from Mercedes-Benz, subsidiary companies like Freightliner, Sterling, Thomas Built Buses, Setra, Western Star, Orion, American LaFrance, MTU and Detroit Diesel are also part of Daimler-Chrysler.

Currently, the brand has around 7 million customers, owning roughly 12 million Mercedes-Benz vehicles. All these people are not driving some car, but the modern interpretation of the myth of "Mercedes".

Vocabulary list of German words used in this article
| | |
| --- | --- |
| elegante | graceful |
| edle | gallant |
| die Emotionen | emotions |
| das Sortiment | product range |
| der Maßstab | benchmarks, standards, scale. (die Maßstäbe = plural) |
| Marke | brand |
| die Garantie | guarantee |
| gekauft | purchased |
| der Kaufmann | business man |
| der Großhändler | wholesale trader |
| der Vorschlag | suggestion |
| der Hersteller | manufacturer |
| neben | apart |
| ungefähr | roughly |
| der Mensch | humans, people (plural: die Menschen |
| der Mythos | myth |
| die Interpretation | interpretation |
| riesig | giant |
| lebenslang | lifetime |
| das Auto | vehicle, car |
| modern | modern |
| im Moment | currently |
Enjoy your free German lesson! To learn German vocabulary fast, check out the 200 Words a Day system.
---
200 Words a Day! Accelerated Language Learning - another free German lesson
| Learn French | Learn Spanish  | Learn Italian | Learn Welsh |
---
200 Words a Day! and Exceltra 
©Copyright 2004-2023 All Rights Reserved
Spanish, German, French, Welsh, Italian Learning Made Fun and Fast