sauter = to jump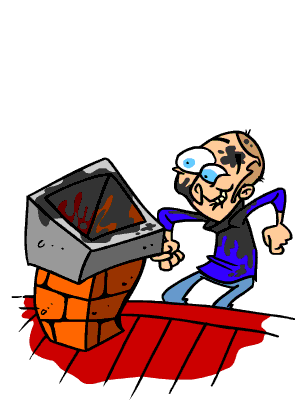 ...imagine you jump into the SOOTY chimney.
---
Remember our courses use GENDER TRIGGERS: a MALE main character for masculine words (blue text if you include a picture), FEMALE main character for feminine (red text).
Other words like verbs, adjectives etc are green.
CHARACTERS: Try, if possible, to include an appropriate famous character to your French Memory Trigger. This more deeply embeds the memory trigger into the brain's subconsious for better retention and easier later recall. Use famous characters from history, inventors, presidents, explorers, generals, kings, queens, princes, sports stars, movie, rock stars, warriors, criminals etc.
(Attempt to avoid licensed characters - like Homer Simpson, Dick Tracy, etc to avoid copyright issues. If using them say something like '... someone that looks like Superman...' rather than a direct use of the character.)
Use characters that are linked with the word in some way. Often the first thing that springs to mind is perfect!

The BEST TRIGGERS this month go into course 3
The BEST TRIGGERS this month, we'll include in the next Learn French course, course 3, and the best contribution of the month will get a 200 Words a Day! free software course download.

All the better if you have a picture to go with your French Memory Trigger - cartoon, photo, collage, montage etc upload that too! A picture is not mandatory, but we aree convinced that Memory Triggers are just so much more effective when learned with pictures.


Submit your French Memory Trigger here.
Add your French Memory Trigger. If possible include a famous person or character associated with the word. For nouns - Male for masculine, female for feminine words.
Other Visitors French Memory Triggers and Contributions
Click below to see French Memory Triggers from other visitors to this page...
French for duck is le canard

imagine a male (m) duck floating along with the flow of water in a CANAL ... avoiding the male (m) duckshooter hiding in the reeds. Editor's …
French for wardrobe is une armoire Not rated yet
Imagine that in a wardrobe a lady in ARMOUR (f) stretches one "arm" as a hanging rail and use other hand to pretend you hang hangers. The lady in …
French for fly is la mouche Not rated yet
Imagine the MOOCH ing sound from the wings of a female (f) fly , attempting to sneak and perch on the lady's MOUstache!
Before you go, take a free subscription to our free language learning eZine
It's called 200 Words a Day!, as it named after our software and website. It's free and sent out two times a month.

Note - I won't be sending 200 Words a Day! in Memory Trigger format etc. It's the name of our software and eZine.

200 Words a Day! French Memory Trigger cartoon learning system makes learning and recalling French words, vocabulary and gender easy-peasy. Boost your ability to learn and remember French words.

Spanish Learning Memory Triggers | German Learning Memory Trigger | Welsh Learning Memory Trigger |
---
200 Words a Day! Add your own CARTOON MEMORY TRIGGER of French.
Accelerated Language Learning Software - Excelearning French, French, German, Welsh, Italian made easy
Transcity Properties Ltd, trading as 200 Words a Day! 32 Alverton, Great Linford, Milton Keynes, Buckinghamshire, MK14 5EF, United Kingdom and serving the world - Australia, Canada, USA.
© 2007-2009. French Memory Triggers