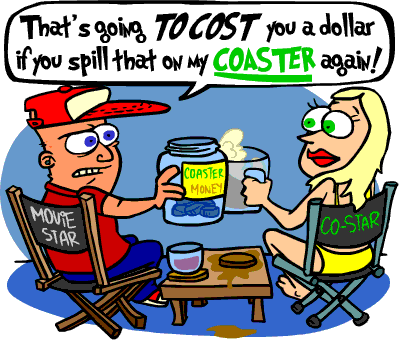 ...imagine the movie star (m) saying to the CO-STAR, "that's going
to cost you a dollar if you spill that on my COASTER again!"
---
For nouns add a GENDER TRIGGER: a MALE character for masculine words (blue text), FEMALE for feminine (red text.
Note the colours used above for the text of the word. Other words like verbs, adjectives etc are green.
CHARACTERS: Try, if you can, to add a famous character or celebrity to your Spanish Memory Trigger. This will more deeply embed the trigger into the subconsious for better retention and recall. Use famous characters from history, presidents, generals, sports stars, movie, rock stars etc.
(Try to avoid referring directly to licensed characters - like Donald Duck, Mickey Mouse, Bart Simpson. If using them say something like '... someone that looks like Donald Duck...' rather than a direct use of Donald Duck.)
For verbs and adjectives, and for nouns, use characters that somehow remind you of the word, because they are somehow associated with it in some way.
The BEST TRIGGERS each month, will be included in future courses and one will win a free 200 Words a Day! software download
The BEST TRIGGERS of the month, will be incorporated in future courses and the best contribution of the month will get a 200 Words a Day! free software course download.

If you have a picture to add to your Spanish Memory Trigger - cartoon, photo, collage, montage etc upload that too! You don't need a picture, but we know that the Memory Triggers are so much more effective with pictures.

Submit your Spanish Memory Trigger here.
Add your Spanish Memory Trigger. If possible include a famous person or character associated with the word. For nouns - Male for masculine, female for feminine words.
Other Visitors Spanish Memory Triggers and Contributions
Click below to see Spanish Memory Triggers from other visitors to this page...
Spanish for city is ciudad. Not rated yet
SEE YOU, DAD, I'm going to the CITY. Imagine a girl saying this to her dad, to remind you that this word is feminine (as are MOST Spanish nouns ending …
Spanish for 'work' is 'il trabajo' Not rated yet
CONDENA This is how my spanish teacher helped me learn the prepositions I needed to know for all inclusive words like 'dar a' which means 'to …
Spanish for pregnant is embarazada Not rated yet
pregnant = embarazada The old granny is EMBARRASSED about her big tummy because she is pregnant again for the thirtieth time. Imagine …
Do take a free subscription to our language learning eZine
It's free and it comes out about twice a month and is called 200 Words a Day!, as it named after our software and website.

Note - I won't be sending 200 Words a Day! in Memory Trigger format etc. It's the name of our software and eZine.
The 200 Words a Day! Spanish Memory Trigger cartoon pictures make learning and recalling Spanish words, vocabulary and gender so much easier than any other system. The memory retention and ability to recall words and learned Spanish stuff is greatly enhanced.


Spanish Learning | German Learning Memory Trigger | Welsh Learning Memory Trigger |
---
200 Words a Day! Add your own CARTOON MEMORY TRIGGER of Spanish.
Accelerated Language Learning Software - Excelearning French, Spanish, German, Welsh, Italian made easy
Transcity Properties Ltd, trading as 200 Words a Day! 32 Alverton, Great Linford, Milton Keynes, Buckinghamshire, MK14 5EF, United Kingdom and serving the world - Australia, Canada, USA.
© 2007-2013. Spanish Memory Triggers