Learn

French sentences

to help develop your understanding of the French words learnt in our

200 Words a Day!

vocabulary courses.
BOOST YOUR LEARNING!
See and listen to over 1000 French words in sample sentences for each 200 Words a Day! vocabulary courses to help you familiarise yourself with the words in context. And learn more besides. More vocabulary, more useful phrases, grammar, intonation ...
Just click on the picture to connect to the vocabulary-building course. The word will appear, along with it's trigger and picture. Click again to return to the sentence course. Works in reverse as well, so if you are in the vocabulary course and click on the picture you will see the sentence.
Also, ideal to practise your spelling ... each lesson followed up with a test. All your progress is recorded and monitored in your own individual database.
Listen to our native speakers read each sentence for you. Repeat it as many times as you like. Tune your ears!
Grammar / Verbs / Turbo boosters courses all under development and still to follow.
---
s'appeler
=
to be called, to name (oneself)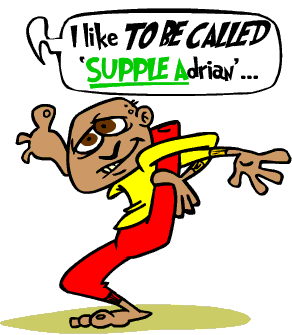 Il

s'appelle

Adrian en anglais et Adrien en français.
His name is Adrian in English and Adrien in French.
---
The course can be approached in more than one way:
Complete the 200 Words a Day! vocabulary course first, to build up a solid base of French vocabulary...
Next, do the Sentences Course, with its own Lessons, Testing and Revision Schedule. Seeing a new word in context will help you remember and recall it even more effectively. Or
Combine both at the same time - learn the word then drill-down from the vocab course to check the sentence. Just click on the picture. Then return back to the vocab course.
Remember to review the lessons you have learnt at the optimum learning intervals. You can't forget as the Schedule will prompt you! - after 24 hours, then again after a week, a month, a quarter and again after a year.
---
Learn French Sentences, now with e-Flashcardz option.
With the additional e-Flashcardz option you are given a photographic visual instead of the Memory Trigger/Cartoon - just like traditional flashcards methodology only now it's interactive.
Switching between the e-Flashcardz and Memory Triggers is easy to do - just click the box on the Settings page. Change it at whim.
Experiment and see what works best for you. You may wish to do the Lessons and Initial Tests using the Memory Techniques, then do the Revision Tests with the e-Flashcardz photographic visuals.
The format for testing can also be easily amended on the Settings Page,
---
Begin immediately - Download Now!
200 Words a Day! French Course 1 Combo
1,000+ words & e-Flashcardz & Sentences
US$67.00 / UK£34.50

US$67.00
CD-Rom
Download



UK£34.95
CD-Rom


Download


200 Words a Day! French Course 2 Combo
1,000+ words & e-Flashcardz & Sentences
US$67.00 / UK£34.50

US$67.00
CD-Rom



Download



UK£34.95
CD-Rom



Download



Bonus: 200 Words a Day! 101 French Proverbs
200 Words a Day! French Combo 1&2 Bundle
2,000+ words & e-Flashcardz & Sentences
US$127.00 / UK£63.50

US$127.00
CD-Rom



Download



UK£63.00
CD-Rom



Download



Bonus: 200 Words a Day! 101 French Proverbs
Please select payment in either US$ or UK£.
US$5.50 / UK3.50 postage added to CD-Rom orders.
Select extra signedfor Delivery option below if required.
No postage added for downloads.
365-day Money-back Guarantee applies if genuinely not to your satisfaction.
ADD Extra SignedFor Delivery U.K. and Worldwide
US$9.95 / UK£5.95

For peace of mind.
Required for all African, Central and South American, and Asian countries.
Optional cover for rest of world.
Signature obtained upon delivery. Insured and trackable.


Signedfor Delivery
US$9.95
Signedfor Delivery
UK£5.95
---
Which computers will our software run on?
Our programmes are designed for PCs including the following operating systems: Windows 10, Windows 8, Windows 7, Windows Vista, Windows XP, Windows 2000
Suitable on any device supporting a Windows PC Operating System 
For Apple Macintosh users: The 200 Words a Day! Language Learning courses can run on your Apple Mac, but require the following previously installed:
1) A PC emulator, VMWare Fusion recommended.
2) A PC System disc is also needed, either Windows 7, 8 (32 bit) or XP recommended.

CDs are required to install the programme on to a Mac.
Not suitable for ipads, iphones.

---
Remember, we have a 365-day guarantee if you are genuinely not happy with the software.
If you have any queries regarding your French language learning, please contact us.
We look forward to hearing from you.
Kevin
---
Learn Languages 200 Words a Day!
200 Words a Day! and Exceltra 
©Copyright 2004-2023 All Rights Reserved