Tutorial for 200 Words a Day Language Learning
Contents on this Page
How to Review your Progress
Lesson Summary & Words Learned
In-built Schedule
How to get Help

This is Page 3 of the 4 page online Tutorial
This tutorial covers the main features of the 200 Words a Day! CD-Rom software packages for Spanish, German, French, Welsh.
The pictures and examples have been mainly taken from the 200 Words a Day! Learn French program, but they are very similar in all these languages.
It is important to play around with the various settings to see what suits you best, and what suits your own learning style best.
Review your Progress with each Language Lesson
Check your Language Lesson Scores & Progress
You can see how many words you have learned by clicking on the Review Progress icon on the Main Menu.
The Review Progress icon is the microscope.

You'll see your scores, and time spent on Tests & Lessons, plus:
your Rate of Learning in 'Words per Day'
and a full break-down of all the lessons & tests you've done
and time spent on them.
You can also see how many words/phrases you've learned on the Lesson Menu in the two columns on the right.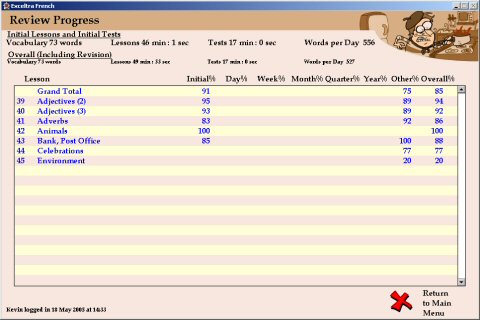 As you can see, all your scores are kept in your own comprehensive databases.
Language Lesson Summary & Words Learned
GoTo & Repeat
You access the Lesson Menu from the Main Menu Page.
Click the Professor icon.

Right-Click inside the 'Words Learned' column for a Menu of the words/phrases in the Lesson;
Right-Click in the column 'Total Words' to see a Summary of all a Lesson's pics.
To pick a word elsewhere in a Lesson click on the Double Arrow.
Find & Go to the other words in the lesson.
To hear the word/phrase again click the Repeat icon, the semi-circular arrow. This repeats the frame and sounds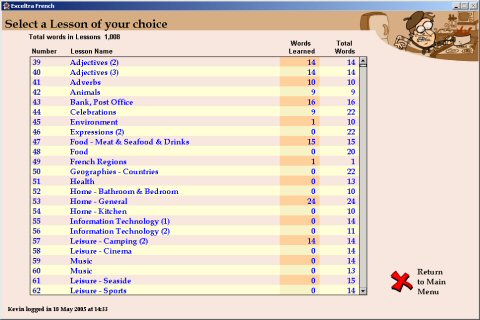 In-built Schedule
Re-Study, Review & Re-Test your Language Lesson at Regular Optimum Intervals
The Schedule tells you what Lesson you should do next.
(From the Main Menu).
Your Schedule tracks what Lessons you have done and will also tell you which Lesson you should Re-Study or Review.
You should do this after:
1 day
a week
a month
3 months and . . .
a year…
But don't worry . . . the program will tell you when you are supposed to review your 'already learned Lessons'.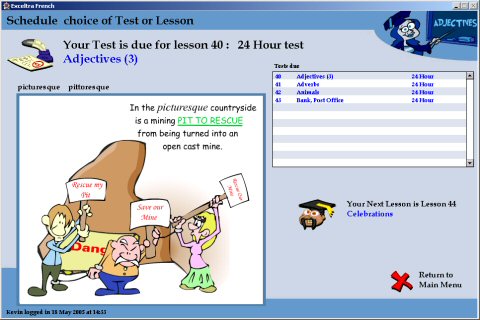 More Help
On-Screen Help in several forms
If you need more detailed information during any language lesson, on how to use the course, or you need Help at any time just click on the Question Mark icon.

Help. . . and . . . On-Screen Help is also always available by Right-Clicking the mouse, on the area of the screen about which you'd like to know something.
So . . . if you want to know about an on-screen feature, title, or icon, hover the mouse cursor over it, and then Right-Click.
A pdf entitled 'How to Use this Course' can be found on the Windows Start Menu - Programs - Exceltra.
If ever you are in doubt about which language lesson to do next, just keep pushing 'Enter' on your keyboard.
---
Language Tutorial 1 | Tutorial Page 2 | Tutorial Page 3 | Tutorial Page 4
---
200 Words a Day! Tutorials
How to Use Exceltra's Learn Spanish. Learn French, Learn German, Learn Welsh easy-to-use software.
Excelerated Foreign Language Learning

200 Words a Day! and Exceltra 
©Copyright 2004-2023 All Rights Reserved