The word in Welsh for crowd

torf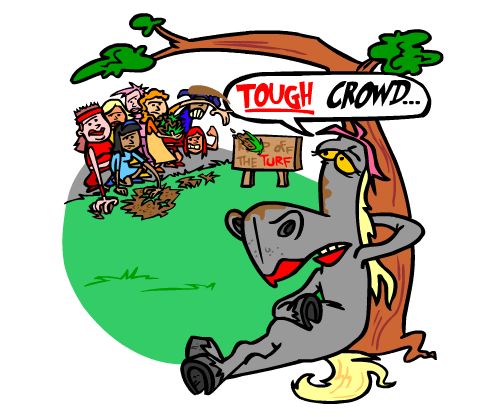 ... imagine a crowd of TOUGH girls (f) is throwing TURF
at the horses.
---
Why turfing turf?
The 200 Words a Day! unique Memory Triggers help you remember words like Welsh for crowd, quickly and effectively. The quirky cartoon helps you visualise and remember the scene.
The Memory Trigger and picture give you built in Gender Triggers to help remind you the gender of nouns.
In the picture of the word in Welsh for crowd, you notice that females are the main characters.
You will hear the Welsh word spoken by a native female Welsh speaker. The English words that give you the link/trigger to the Welsh words are colour-coded red.
Using these techniques you automatically recall the gender when recalling the picture - saving you valuable time by learning the genders at the same time as the word.
Quick, easy and effective.
---
Flashcardz photographic visual
Welsh for Crowd: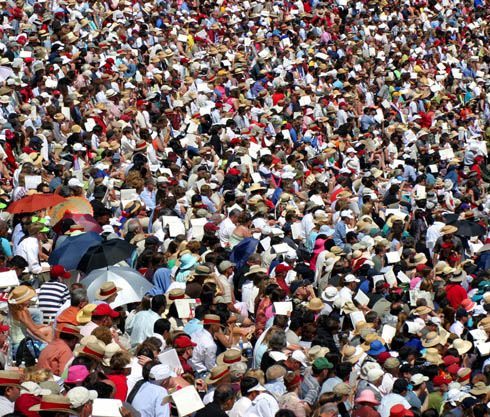 The e-Flashcardz option gives you an alternative visual, adding variety to your learning and testing methodologies. Works just like the traditional flashcard method, but enhanced with the interactive features of our software.
Complement the 200 Words a Day! Memory Triggers with with e-Flashcardz. Particularly useful for testing and revision.
Totally flexible and customisable - switch between the Memory Trigger and e-Flashcardz options at any time.
---
Get your 200 Words a Day!
Welsh + e-Flashcardz here:
200 Words a Day! Welsh Course 1
with e-Flashcardz

1,000+ words & e-Flashcardz

US$57.00

CD-Rom

Download



UK£30.95

CD-Rom

Download


Please select either US$ or UK£ currency.
US$4.95 / UK£2.50 postage added to CD-Rom orders.
No postage added for downloads.
365-day Money-back Guarantee applies if genuinely not to your satisfaction.
Extra SignedFor Delivery U.K. and Worldwide
US$5.50 / UK£4.00

For peace of mind.
Required for all African, Central and South American, and Asian countries.
Optional cover for rest of world.
Signature obtained upon delivery. Insured and trackable.


Signedfor Delivery
US$5.50
Signedfor Delivery
UK£4.00
---
What computers will our CD-Roms run on?
Our programmes are suitable for the following operating systems:
Windows 95, Windows 98, Windows Millenium, Windows 2000, Windows XP, Windows Vista.

For Apple Macintosh users, use with PC Emulator software.
Jan has told us: "I have an IMac and installed Virtual PC for MAC Version 7 with Windows XP home edition and your programme runs very well on it." - Cheers, Jan.
---
Alternative Payments
We also accept direct direct credit/debit card payments by phone.
Your card will be charged in UK£ and converted to your local currency.
Have it handy.

Calling from within U.K.: 01908 676 873
Calling from outside U.K.: + 44 1908 676 873
Or, leave a message with your contact details and preferable local time to call. We will endeavour to return your call as soon as we can.
We also accept checks/cheques in US$ or UK£, made payable to
200 Words a Day! Please send to our address below.
---
200 Words a Day! Learn Welsh for crowd
Exceltra, Transcity Properties Ltd
32 Alverton, Great Linford, Milton Keynes
MK14 5EF, Buckinghamshire, United Kingdom